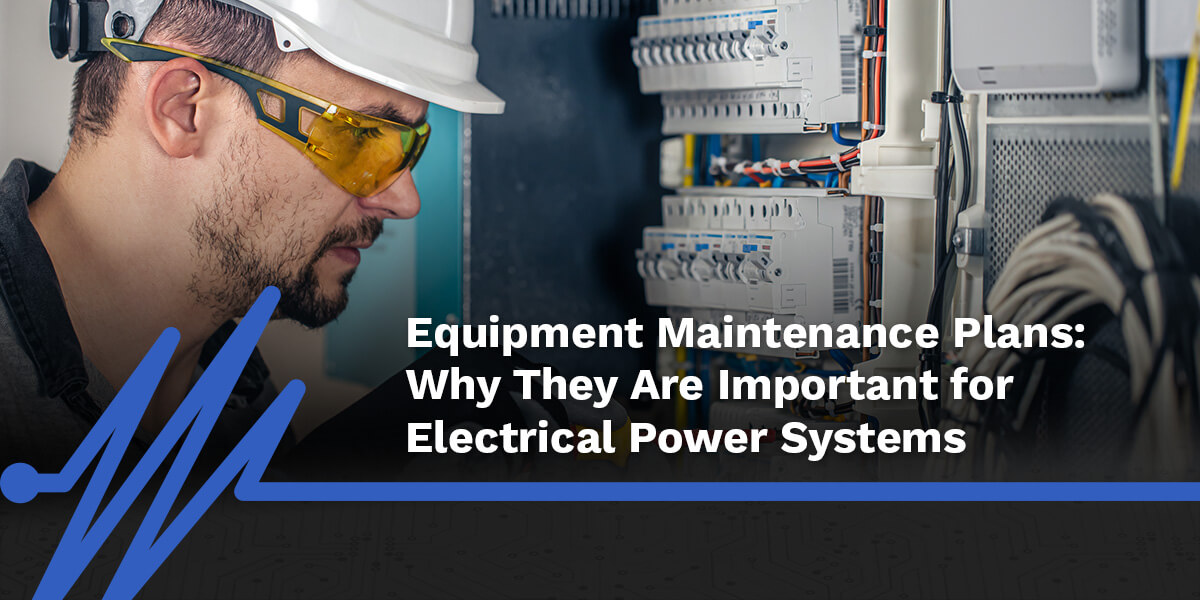 Electrical power systems are crucial for all buildings, regardless of the type or industry. They ensure industrial electrical rotating equipment and their controls have the power to function. Electrical power systems must remain in top condition to improve safety and increase efficiency. An electrical power system equipment maintenance plan is the best way to do this.
Equipment maintenance plans are a schedule for evaluating electrical systems and repairing damages. Maintenance plans have numerous benefits, including improving the facility's safety and lengthening the equipment's life span.
What Are Equipment Maintenance Plans?
Equipment and heavy machinery require regular maintenance to operate correctly. An equipment maintenance plan (EMP) is a schedule or plan that details how to maintain machinery in your facility. It is a document that breaks down when each piece of machinery needs to be serviced to keep it operating optimally. An EMP must encompass every part of your facility to ensure all assets remain in top operating condition.
EMPs document the type of maintenance every piece of equipment needs, how often maintenance needs to occur and who needs to perform it. EMPs are a significant part of preventive maintenance, which can help reduce the number of breakdowns or equipment failures your facility experiences. An EMP ensures that maintenance becomes part of your operations and doesn't interfere with jobs.
Equipment Maintenance Plans for Electrical Power Systems
Electrical Power Systems can be delicate and require dedicated maintenance and care to ensure they remain in top condition. As with most equipment, electrical systems start deteriorating from the moment they are installed. Factors such as system overloads, harsh working conditions, damage and improper use can speed up deterioration, leading to malfunctions and failure. Electrical EMPs ensure that electrical equipment is in good working condition through regular inspections, testing and repairs.
Electrical maintenance must be carried out by electricians and maintenance personnel who are trained and experienced in dealing with electrical power systems. Electrical EMPs are tailored to the unique specifications and requirements of a building and the electrical power systems it uses.
Common Areas Where Electrical EMPs Are Needed:
Industrial and Heavy Commercial Industries: Food & Beverage, Power Generation, Aggregate & Mining, Chiller & Compressors, Pulp & Paper, Municipality, Distribution, Ski Resorts, and Pumping
Specialized Facilities: Warehouses, Cold Storage Facilities, Manufacturing Plants, Amusement Parks, High Rise Buildings with Industrial HVAC systems, and even climate controlled data storage facilities.
Some of the tasks involved in electrical EMPs include the following:
Become compliant with the OSHA required NFPA70E & NFPA70B.
Routinely inspect Main Power distribution switchgear, Electrical Connections, and Circuit Breakers
Ensure Voltage and Amperages are within tolerance.
Perform regular Thermography surveys.
Inspect electrical equipment for wear and corrosion
Test critical Circuit Breakers and systems are functioning
Regularly revisit the safety procedures
Why Are Electrical Equipment Maintenance Plans Important?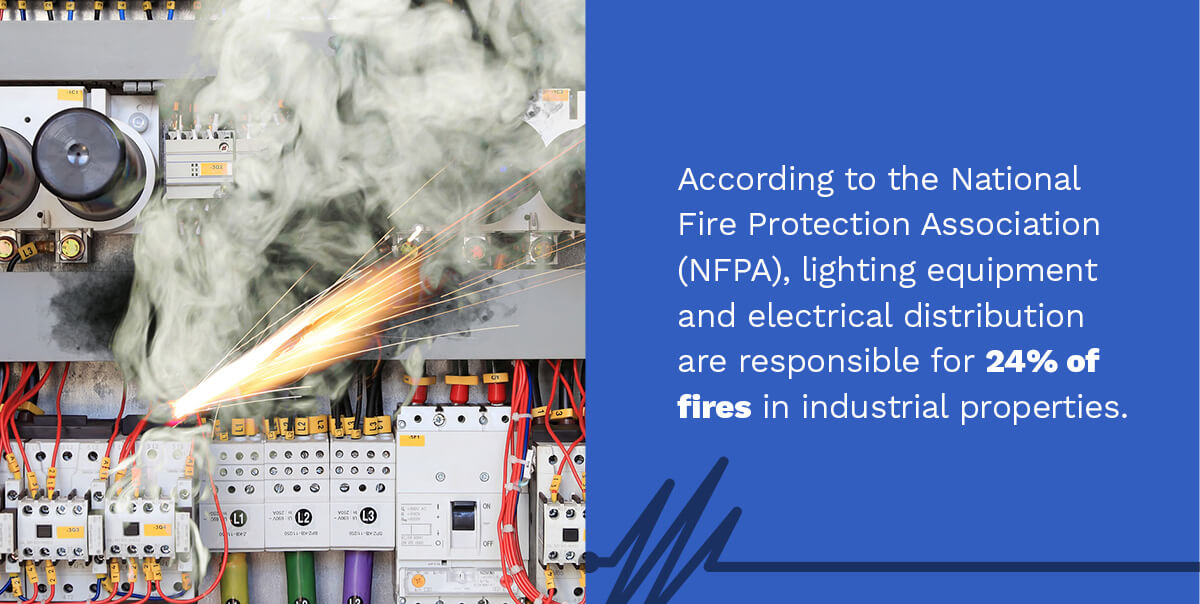 Electrical failures and malfunctions can lead to considerable damage and loss in any facility or building. According to the National Fire Protection Association (NFPA), lighting equipment and electrical distribution are responsible for 24% of fires in industrial properties. In many cases, these fires are preventable with proper maintenance and care. An electrical EMP helps maintain electrical power systems and equipment to ensure they are in proper working condition, which increases the facility's safety and cuts costs.
In addition, equipment deterioration, malfunction and failure can lead to inefficient operation, costly repairs and delays due to downtime. These issues have significant financial repercussions for your business.
Benefits of an Electrical EMP
Electrical EMPs many benefits for all types of buildings, businesses and industries. Here are a few benefits of having an electrical EMP:
Improved facility safety: The biggest benefit of an EMP is that it improves the safety of a building. When electrical equipment and power systems are regularly serviced, they are less likely to malfunction or fail. This reduces the risk of electrical-based accidents such as fires.
Reduced utility costs: Poor electrical maintenance can cause equipment to draw more power to compensate for worn parts. This can lead to higher utility bills. Planned maintenance ensures your electrical equipment and systems are operating efficiently and without the need for additional power, lowering your utility bills.
Fewer operational interruptions: Any downtime can be costly for your business, whether a retail store or a manufacturing plant. Scheduled maintenance lowers the risk of power surges and spikes, along with equipment failure that can interrupt your operations.
Longer-lasting equipment: When electrical equipment and systems regularly fail, get worn out and become subject to fluctuating power levels, it can significantly shorten their life span. EMPs can help lengthen the life span of the equipment by replacing aged components and ensuring the equipment performs optimally.
Lower repair costs: Electrical EMPs help identify potential problems before they become equipment failures that require costly repairs.
OSHA and NFPA Compliance: A detailed electrical EMP ensures you meet requirements provided by the Occupational Safety and Health Administration (OSHA) and the National Fire Protection Association (NFPA). These requirements involve electrical safety and electrical system maintenance. Following them helps reduce the potential for fines and writeups.
How to Build an Electrical EMP
Building an electrical EMP takes careful consideration and a keen understanding of your electrical equipment, operational needs, electrical power systems and the power requirements of your building. One of the best things to do before developing an EMP is to understand the OSHA and NFPA guidelines on electrical safety and preventive maintenance. The OSHA electrical standards ensure that anyone who works directly or indirectly with and around electricity stays safe from various hazards, including shocks, fires and explosions.
NFPA 70E® seeks to protect staff from electrical hazards and help workplaces remain compliant with OSHA 1910 Subpart S and OSHA 1926 Subpart K. Another NFPA standard, NFPA 70B, sets out detailed recommended practices for the preventive maintenance of electrical systems. NFPA 70B can help electricians and facility managers develop EMPs for equipment in different environments.
NFPA 70B is a crucial element of developing an EMP as it addresses various aspects of maintenance, including:
Personnel safety
Testing requirements and test methods
Grounding and ground fault protection
Basics of electrical equipment maintenance
Once you understand the OSHA and NFPA guidelines, you can create an electrical EMP that ensures your facility complies with both standards. NFPA 70B can also guide you on specific maintenance timelines for equipment and parts.
Steps to Developing an Electrical EMP
Here are six easy steps you can follow to develop an effective EMP for electrical systems:
Inventory equipment and systems: Start by taking an inventory of your equipment and systems. This ensures you have a clear view of your equipment and how regularly specific parts need maintenance.
Prioritize areas: Next, you need to prioritize certain areas and equipment. Critical assets may need to be prioritized over others to reduce downtime and improve efficiency.
Create checklists: Have a checklist for equipment, systems and overall maintenance. The checklist should include maintenance instructions and what specifically needs checking. This way, your maintenance team knows what needs inspecting and can update the list without missing anything.
Develop a maintenance schedule: Once you have a clear view of your maintenance needs, develop a schedule that outlines when different equipment needs to be serviced and allows time for maintenance while being flexible enough to accommodate unexpected repairs. This also includes choosing whether equipment should be serviced based on hours operated or jobs completed.
Educate your team: It is essential to educate your maintenance team and technicians on the importance of your EMP. They may also need to be trained to maintain certain equipment and understand your maintenance system. It is also vital to provide electrical safety training to your team.
Create a stock of spares: Building up your spares inventory can speed up maintenance and reduce downtime. Try and keep the most frequently replaced or difficult-to-source parts on hand to make sure your team can complete repairs as needed.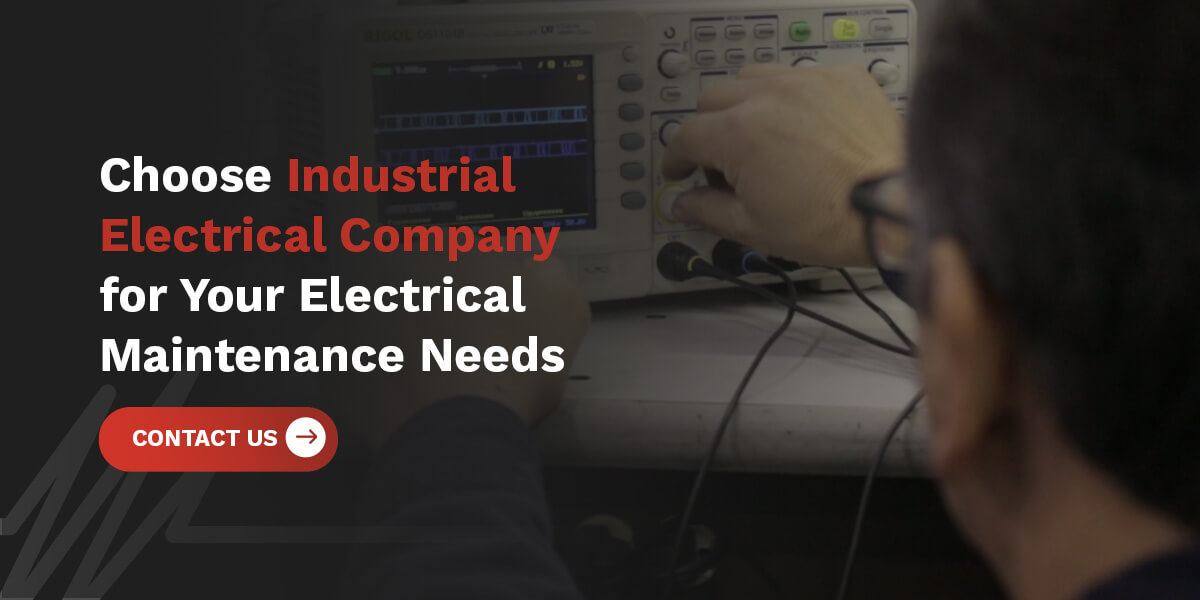 Choose Industrial Electrical Company for Your Electrical Maintenance Needs
Creating an effective EMP takes time and knowledge. It also requires specialized electrical safety training to ensure your team understands the need for maintenance and stays safe while working on equipment. Industrial Electrical Company is a full-service electrical company that provides a range of electrical services, including industrial training, industrial field services, electrical contracting and NFPA 70B training.
Contact us today for your electrical needs!