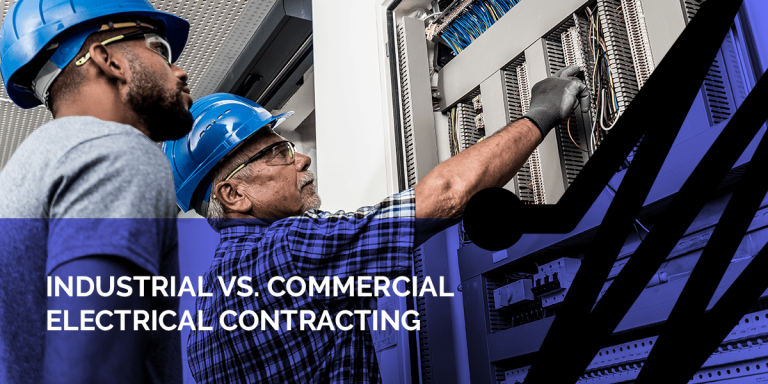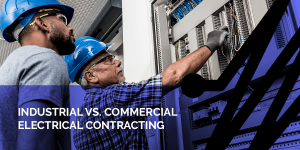 Industrial and commercial electrical contracting is not a one-size-fits-all type of profession. Similar to how a doctor isn't "just a doctor," electricians can specialize in different fields. With different skillsets and focuses, electricians can cater to industrial, commercial or residential work zones. In general, electricians repair, test, maintain and install electrical equipment while adhering to safety checks. But where and to what degree makes the difference.
The difference between industrial vs commercial electricians is that they have different specialties and training, and work in different environments and applications. Industrial Electrical Company focuses on industrial electrical contracting to support your operations whether you demand complex high voltage installations or microcurrent repairs.
What is Electrical Contracting?
Electrical contractors design, plan, install and maintain electrical systems and make sure these systems are effective and safe. Electrical contractors can work with high-voltage power systems like distribution lines and substations or low-voltage systems such as lighting, security systems and telecom and wireless networks. They can perform work at industrial locations, commercial businesses and residences. At Industrial Electrical Company, our electrical contracting department consists of highly qualified and professional union electricians.
What do Industrial Contractors Specialize In?
Industrial electrical contractors work in a business setting like commercial contractors, focusing on non-residential applications, but their duties differ from a commercial electrician. For example, their focus is to keep facilities like plants, manufacturers, factories and mines running. Their work environments can also include agricultural, industrial and construction sites or even industries like steel producers, electrical firms and car manufacturers.
This work demands focused and extensive knowledge in the complex systems and safety regulations within industrial work zones. Industrial electricians focus on work like pneumatic, hydraulic and operative machinery issues. The profession also often requires electricians to be skilled in robotics and specialized equipment.
Industrial contractors repair, wire, install and maintain devices in large facilities and carry out safety checks. Their main duties include:
Installing electrical systems.
Troubleshooting electrical equipment.
Restoring and maintaining equipment.
Industrial contractors can handle issues that range from high voltage systems to microcurrents. These components of a facility's machinery play a crucial part in its operations. Because of this, industrial electrician jobs demand exceptional accuracy — and so does commercial work. The difference is that electrical mistakes in a residential or commercial environment can often be easily fixed, while industrial errors can be costly and affect a company's information systems, production and development.
Because industrial electricians work with the different electricity and power needs of large-scale factories, they need to obtain a high skillset and be adaptable to different high-voltage systems. Often, industrial contractors need a few years of apprenticeship training, plus additional certificates and qualifications before landing a professional contracting job because the level of specialized expertise required is much greater than a commercial contractor.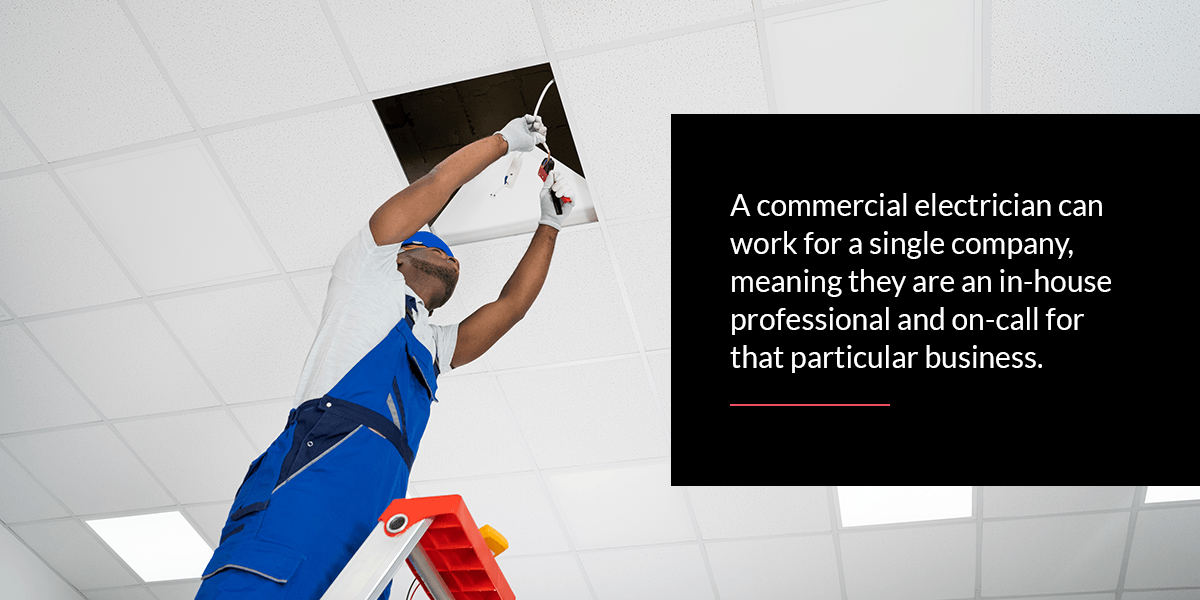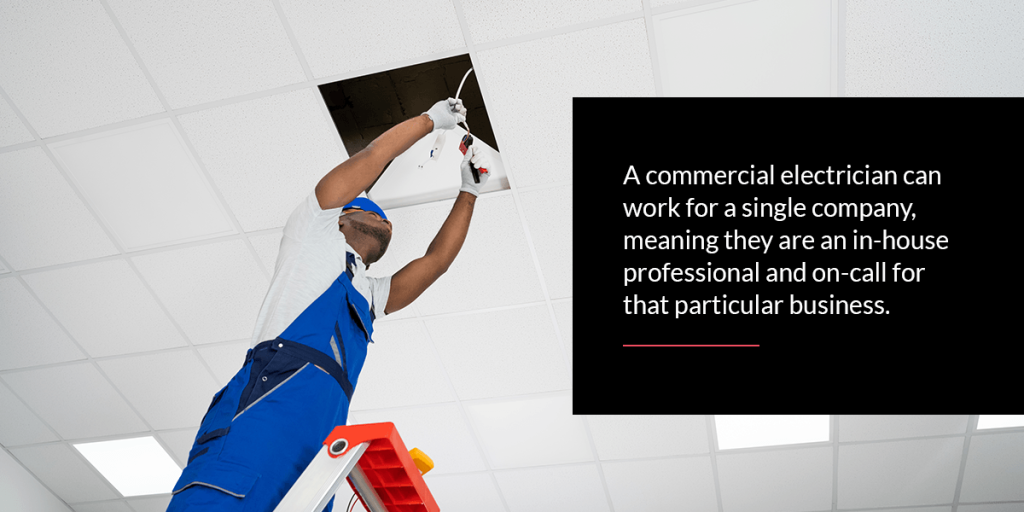 What do Commercial Electrical Contractors Specialize In?
When it comes to commercial vs. industrial electrical contractors, commercial electricians mainly work in non-residential settings open to the public. Commercial spaces can include retail stores, restaurants, high rises, offices and other business spaces. They can also work in environments such as townships, government agencies, schools and hospital systems.
A commercial electrician can work for a single company, meaning they are an in-house professional and on-call for that particular business. For example, a shopping mall, medical center, bank or retailer may hire a full-time electrician instead of calling an outside contractor. However, some companies also rely on outside contractors for electrical support. Sometimes, these contractors offer both commercial and residential services.
Commercial electrical contractors are more common compared to industrial electricians, and they focus on more general work. Commercial electrical contractors understand electrical tasks from light fixture installations to large repairs. Some of their duties include repairs and maintenance, along with designing and building electrical systems that a specific workplace requires.
During the design and build phases, commercial electricians collaborate with building owners, architects and consulting specifiers. For example, when it comes to choosing the conduits of pipes and tubing structures required to meet electrical codes, commercial contractors handle these types of jobs.
Commercial electricians carry out tasks such as:
Rewiring.
Installing equipment.
Designing electrical systems.
Connecting security alarms, switches and lights.
Repairing and maintaining cooling and heating systems.
Training apprentices or leading a team.
While commercial electricians focus on ensuring the wiring or structure of electrical components are functioning efficiently and safely in commercial businesses, sometimes their work overlaps with the duties of an industrial electrical contractor. These contractors work directly with clients when making repairs and installations, fixing anything from small electrical issues to large installations of new equipment.
How are Commercial and Industrial Electrical Contractors Similar?
Industrial and commercial electrical contractors are similar in that they both require a cornerstone of electrical knowledge to complete various tasks. With a base of electrical knowledge, both professionals work to keep a facility or business running smoothly. They both undergo training to work with medium to high voltage equipment and specialize in maintaining, troubleshooting and repairing electrical equipment.
It's the environment in which they work and the level of specialization that sets an industrial contractor apart from a commercial electrician. Industrial electricians troubleshoot issues in manufacturing industries while commercial contractors complete electrical repairs and maintenance in mainstream workplaces. Industrial contractors also have a higher skill set and adaptability level for working on large-scale facilities and more complex systems.
Electrical Contracting Services for Your Commercial or Industrial Needs
Industrial Electrical Company caters our services to your exact requirements by listening and discovering what your facility needs. If necessary, our team of experts will complete a site visit to help us understand what solution is best. From there, we generate a quote, as well as other alternatives by providing expert consultation. We provide ongoing support throughout the process and guarantee to be on time, within your budget and up to par with your satisfaction.
Industrial and commercial electrical contracting services can increase your operation's uptime no matter the application. Reach out to an Industrial Electrical Company representative to schedule an appointment for your industrial or commercial electrical needs. You can also contact us with additional questions about our services.
We Care. We Listen. We Keep Our Word.