Industrial Electrical Company (IEC) offers a variety of training courses for electrical workers
looking to remain current on industry standards and practices. Our detailed training encompasses
the most up-to-date procedures and information available. These training courses are vital for all
industry workers — achieving and maintaining certifications opens the door to jobs, promotions
and more efficient operations.
Electrical training services offered by IEC follow the safety standards and codes required by the
National Electrical Code (NEC), the Occupational Safety and Health Administration (OSHA), the
National Electrical Safety Code (NESC) and the National Fire Protection Association (NFPA).
Taking these courses ensures you have the knowledge and hands-on experience to tackle complex
industry problems safely and efficiently at all times.
Explore our summary of available training courses below. Several of our courses come in virtual
formats for improved accessibility. All our electrical training courses offer a detailed discussion
of their topics so you can master each critical area of your work.
Electrical Safety
Our Electrical Safety training courses cover NFPA 70E® standards of safety. You'll learn the best practices for reducing dangers around significant electrical hazards. The electrical safety program ensures you can identify risks, practice safe operational procedures, identify essential personal protective equipment and more. The NFPA 70E® curriculum assists you in complying with OSHA 1926 Subpart K and OSHA 1910 Subpart S.
The refresher courses will inform you of the significant changes to the NFPA 70E® standards, so you can stay up-to-date on all the most current safety practices and emergency response plans. Taking refresher courses is essential for your work, as NFPA standards require auditing and retraining at least once every three years. We offer refresher courses as live virtual or standard options to ensure you can receive your required training no matter your circumstances.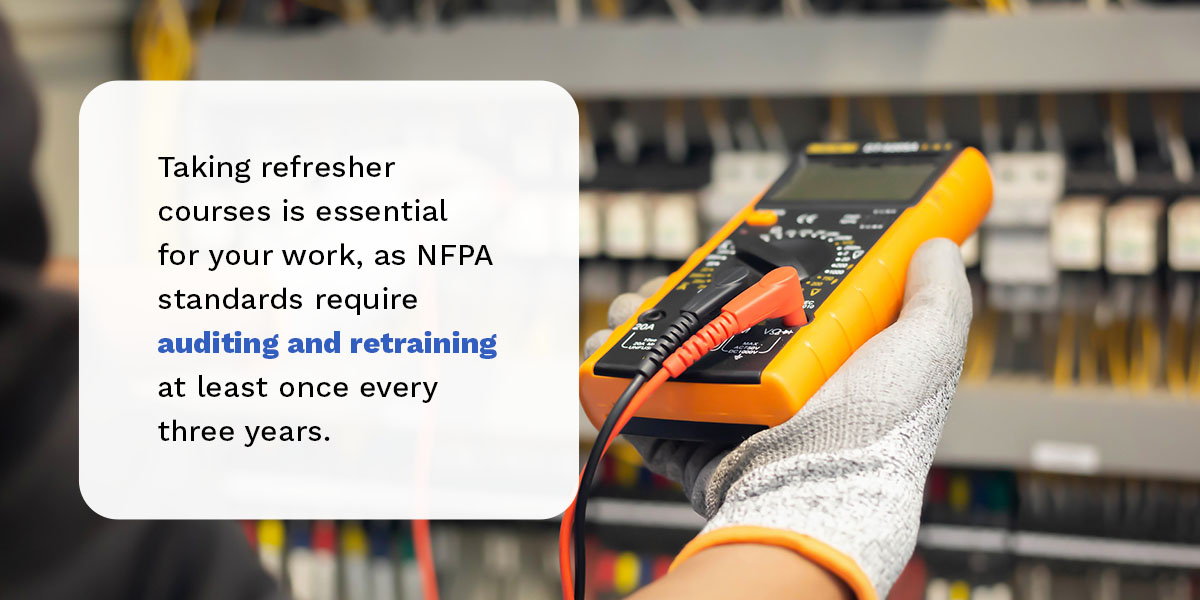 Other available courses will teach the fundamentals of power generation, distribution lines, control, transmission, equipment and transformation in compliance with OSHA guidelines, along with low and medium-voltage switchgear operations, construction and hazards. Completing our electrical safety courses will help you minimize risk and improve your safety and efficiency on the job.
Our Electrical Safety courses include:
Arc Flash Electrical Safety [based on NFPA 70E®]

Arc Flash Electrical Safety [based on NFPA 70E®]: Awareness

Arc Flash Electrical Safety [based on NFPA 70E®]: Operator – Live Virtual

Arc Flash Electrical Safety [based on NFPA 70E®]: Refresher & Changes

Arc Flash Electrical Safety [based on NFPA 70E®]: Refresher & Changes – Live Virtual

NFPA 70B® – Recommended Practice for Electrical Equipment Maintenance®
Electrical | Maintenance & Motor Control
Electrical maintenance training deals with the foundational information at the heart of industrial electric work. Understanding industrial electronics will reduce downtime — the more equipped you are, the faster and more safely you'll be able to break down and grasp electrical problems. Staying current on electrical maintenance instructions will assist electrical workers in becoming faster and safer at breaking down, maintaining and troubleshooting their everyday tasks.

The Basics of Industrial Electricity course covers everything you need to know for a basic understanding of electricity. It provides you with key experience in the use, functions and hazards of working with electricity — you'll get theory paired with hands-on practice to put your understanding to practical use. Everything from safety methods to transformers to terminology is discussed for a well-rounded, thorough course on industrial electric basics.
Our Electric Motors and Electric Motor Control Circuit Troubleshooting courses offer detailed information on troubleshooting equipment. This is especially critical for systems like motor control circuits, where troubleshooting occurs when the circuit is in an energized state. Learning correct troubleshooting methods will keep you safe as you correct issues and helps reduce downtime. Troubleshooting courses offer increased confidence and independence at work, giving you control over the motors with which you work.
The Variable Frequency Drives course teaches participants about design recommendations for making equipment as safe and energy efficient as possible. You'll learn to troubleshoot upgraded equipment and will be able to correct problems and understand fault diagnostics.
Other options involve reading electrical blueprints and schematics, helping you to accurately and efficiently interpret this key information. After completing this course, you will be able to understand phasing options, symbol legends, wiring diagrams, lighting plans and other key aspects of blueprints and schematics.
Also included in our Maintenance selection are maintenance courses for anyone responsible for the testing and maintenance of utility and industrial sub-stations. These courses have essential hands-on practice, giving you a concrete understanding of sub-station systems and allowing you to find and tend to faulty or weak components. Preventative maintenance is key to sub-station operations, allowing you to catch potential issues before they become dangerous.
Our Maintenance courses include:
Basics of Industrial Electricity

Electric Motors: Understanding & Troubleshooting

Troubleshooting Electric Motor Control Circuits

Electrical Print Reading: Blueprints & Schematics

Industrial Electronics & Circuits

Variable Frequency Drives
Fluid Power
Anyone working with fluid power should take our courses for a complete understanding of these systems. We offer beginner and advanced courses in several topics to help enhance your knowledge and experience, no matter your skill level. Topics range from general information to specialized understanding for a complete education on fluids.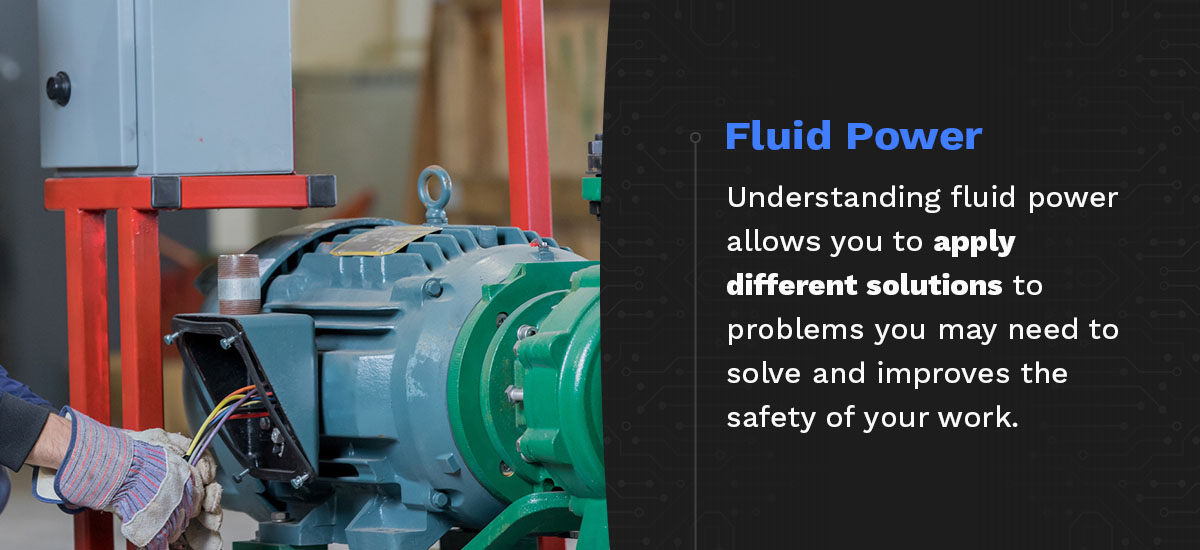 The Centrifugal Pumps course breaks down key concepts into theory before covering design, operation and maintenance. It's key to mastering centrifugal pumps and assists you in understanding them at their most basic level. Understanding each theory and component allows you to apply different solutions to problems you may need to solve and improves the safety of your work.
Hydraulic systems are designed for flexibility, sometimes creating many problems that require troubleshooting. It's crucial to understand the complex movement of fluids and the situations you might face while working. Available courses look at how fluids in positive systems are prevented from going where desired and give you the tools to find the right solution. Hands-on hydraulic troubleshooting allows you to master the logic and analysis of this subject and helps you reduce downtime and hazards on the job.
Anyone interested in brazing should evaluate beginner and advanced courses to expand their skills. Beginner-level brazing explores what brazing is and the best processes for joining copper alloy and copper components. Technicians must master brazing and advance their knowledge of the subject since brazing is essential for safe joints that can withstand extreme temperatures and pressure.
The Fluid Power courses available include:
Mechanical | Maintenance
Mechanical Maintenance courses go over the fundamentals of mechanical work and preventative maintenance. Maintenance technicians receive training on how to repair and maintain mechanical components. Quality mechanical maintenance improves the efficiency of operations and reduces downtime, therefore increasing output. Our maintenance courses for mechanical systems provide industry-leading instruction and demonstrations for the best maintenance practices available.
Our Mechanical Drives and Power Transmission course instructs you on the maintenance and installation of mechanical drives. We'll break down alignment, lubrication, bearings, belts, chains, troubleshooting and other notable topics. You'll learn the correct way to analyze and solve problems when they occur for reduced downtime. The Bearings and Lubrication course covers

the lubrication and alignment of rotating machinery — when done correctly, the skills help you to reduce energy and operation costs.
Supervisors, electrical technicians and engineers who repair, maintain, test, install or troubleshoot medium voltage power cables should take essential cable courses. Technicians will learn industry safety practices and will be able to identify cable components and causes of failure. Additionally, the course identifies indicators of cable performance deterioration for more effective preventative maintenance.
Technicians looking to dive into inspecting waste and vent systems, regulations, plumbing math, water supply and distribution, sanitary drainage, and more can benefit from plumbing-focused classes. They'll also receive hands-on experience to provide a space for applying plumbing principles. This course is essential for passing the exam, giving you the reasoning skills and knowledge to tackle plumbing problems.
Understanding essential concepts in welding is critical for safe, effective work. Explore welding processes, types of weld joints and welds, weld parts, joint design, fusion and more. Welding safety practices are a core component of learning — welders deal with various hazards that can cause severe injury or harm. Proper precaution, equipment and techniques are discussed for safer, improved welding on the job.
Finally, our Vibration Analysis course explores vibration analysis and measurement, helping you understand why vibration is key to monitoring rotating machinery. Vibration can help alert us to faulty conditions before they become severe, improving the safety and durability of machinery.
Our Mechanical Maintenance courses are:
Machine Tool Alignment: 3-Axis

Machine Tool Alignment: 5-Axis

Mechanical Drives & Power Transmission

Principles of Bearings & Lubrication Shaft Alignment with Laser Technology

Vibration Analysis
Begin Your Industrial Electrical Training With IEC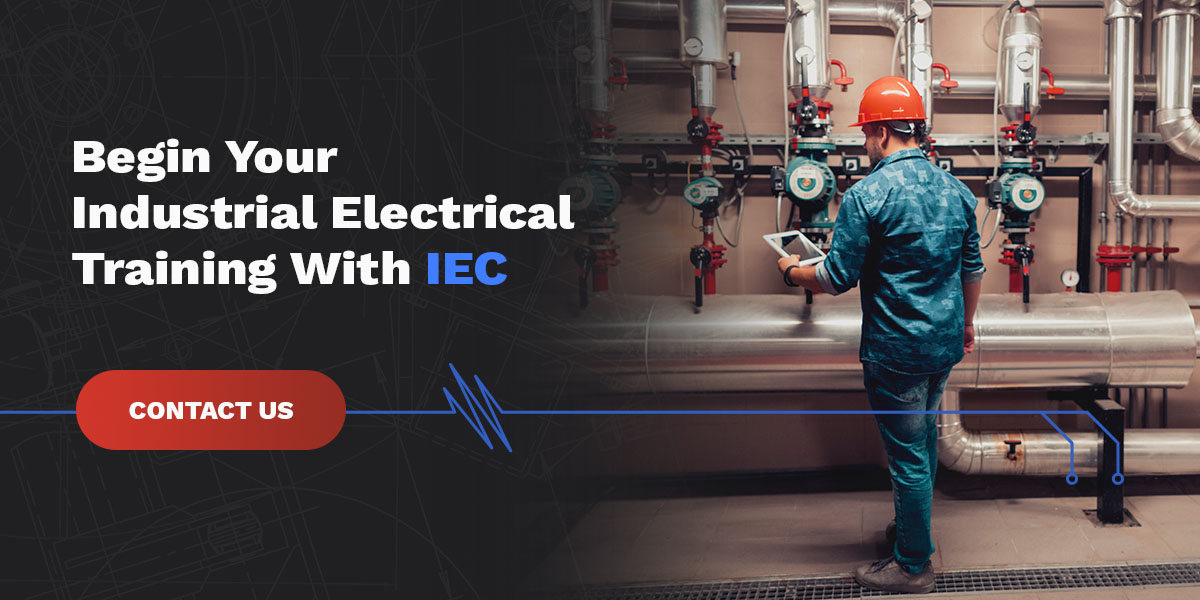 IEC is a leader in electrical solutions and in-class services for electrical workers in California's Central Valley and Western Nevada. With over 85 years of electrical experience, you can trust our team to provide high-quality, tailored solutions for your electrical needs. With in-depth, firsthand experience with our courses and a detailed breakdown of each course subject, you'll receive premium education when you join our electrical classes.
Improve your productivity, reduce downtime and learn how to prevent and solve electrical problems at your facility. Maintaining and increasing your certifications makes you a more skilled, capable technician on the job. Our dozens of industry training courses have provided electrical workers with critical skills and training for improved job ability and success.
Industrial Electrical Company has partnered with NTT Training to offer you the most comprehensive industrial training platform available today for our industry. Contact us to register for electrical training courses today.