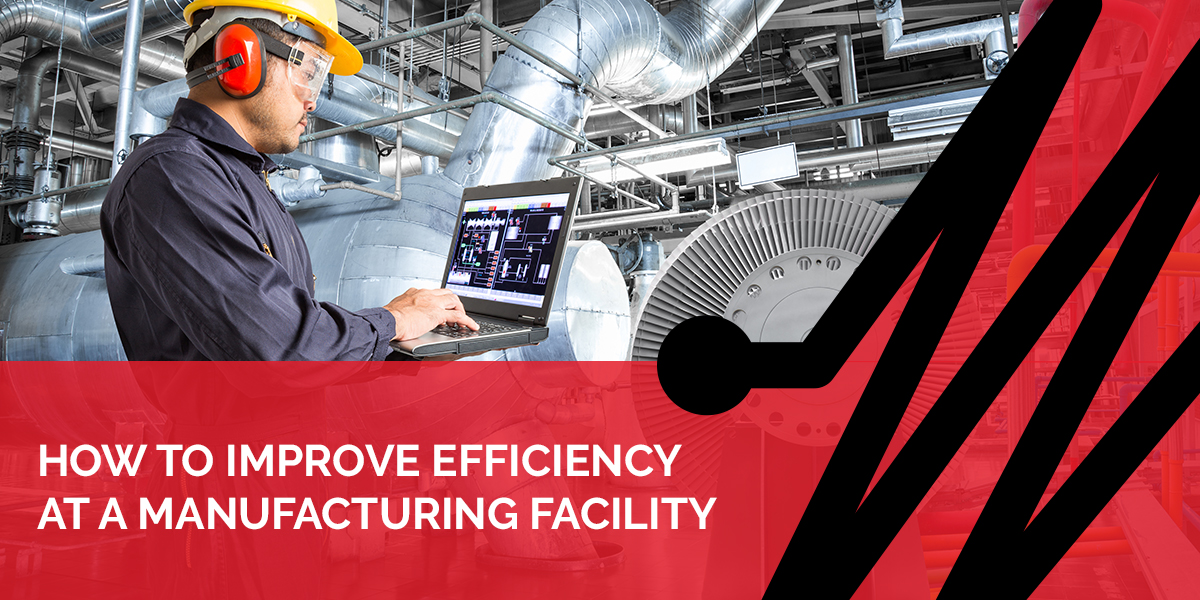 Efficiency is vital at manufacturing facilities. To be productive, attain a profit and keep things running smoothly at all times, your team must be efficient and prepared to handle problems and find solutions quickly.
Benefits of Improved Efficiency
Improving efficiency is a broad term often used without much definition or detail. But there are many simple, specific ways to build an atmosphere of efficiency in your manufacturing facility. If you can instill these strategies effectively, then you could reap the many benefits that come afterward:
Increased productivity: Efficiency breeds productivity — a well-oiled manufacturing facility will be able to run through a day without any hiccups and swiftly manage any that arise. An increase in productivity can take your facility to the next level and increase your competitiveness in your industry.
Employee satisfaction: As a result of efficiency, employees won't have to deal with constant problems and patterns of issues. Instead, they'll be able to focus on their core duties and do that job to the best of their ability.
Enhanced profitability: Improved efficiency can also create a more significant profit. An efficiently run facility will have less need for repairs and services. Save money and watch your earnings grow due to lower operational costs and reduced waste.
Growth: If your facility is always taking care of numerous problems and fixing old equipment, you may not have adequate time to look to expand or build upon your foundation. Improved efficiency lets you look forward instead of back and free you to continue growing your business.
6 Ways to Improve Efficiency at Your Manufacturing Facility
How To Improve Production Efficiency
Improving efficiency is a process with many different factors at play, but it's worth investing the time needed to see the benefits. You can use the following strategies to improve production efficiency.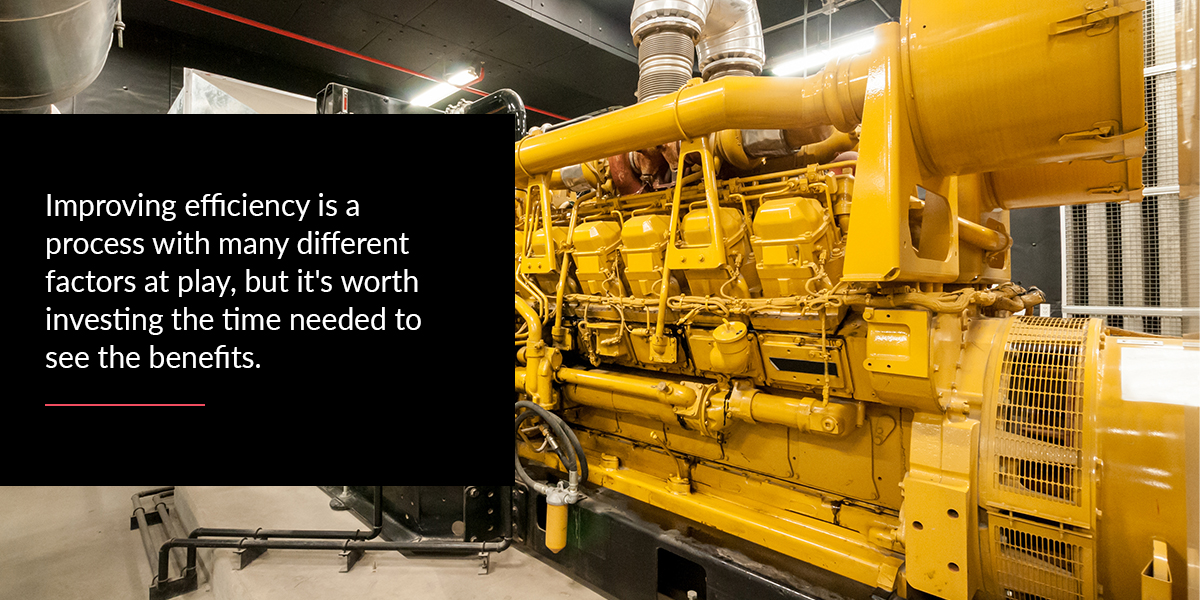 1. Invest in Automation
Automation is an effective way to improve efficiency. It frees employees from tedious tasks and allows them to focus on more complex and fulfilling jobs. Automation gives more responsibility to the employee and helps increase their sense of confidence.
It will also make your workplace safer, as employees may not have to directly initiate with dangerous machines as much as they would have traditionally. Automation also has the potential to solve labor shortage problems in your facility.
2. Commit to Regular Maintenance
Keeping up with maintenance helps you avoid more significant problems. Following a scheduled routine of maintenance and inspections will keep your facility running smoothly and set you up for success in the future.
Maintain a separate record for each piece of equipment. Individual records make it easier to stay up to date on repairs. Inspect electric motors weekly or even daily for noise, vibration and temperature. Examine lubrication, shaft alignment and belts and monitor for efficiency.
3. Improve Training
Employees are more productive if they know what they're doing. Training classes should be constant and thorough and should arm employees with the tools and knowledge to operate equipment successfully. Employees with the correct information can be confident running equipment and solving problems independently if they arise.
Training is a straightforward and effective way to increase manufacturing efficiency.
4. Optimize Resources
Sometimes machines have too much downtime, or employees are stuck waiting around without knowing or having to do anything next. Reframe and restructure your facility to get the most out of the equipment and employees you have on hand.
Monitor equipment to see how often they're running. If machines are too old or big for the jobs they're handling, you may want to switch the equipment out for a smaller, newer or more efficient version.
Talk to your staff about their daily workflow. Do your employees have a lot of idle time? Are they working too much? Gather information from your team and try to find a way to get the most out of everyone's day. Resource optimization will help you avoid employee burnout and excessive downtime.
5. Upgrade Electric Motors
One of the best ways to improve efficiency is to find a quality electric motor to power your equipment. With their power and high number of coils, electric motors can decrease downtime and increase productivity. Though more efficient electric motors may cost more than standard ones, that cost is usually more than covered quickly through extensive energy savings.
Some things to keep in mind while looking for an excellent electric motor include:
Energy: The true cost of an Electric Motor isn't what you paid for it! It's what you spend in Kilowatt Hours operating it during its lifespan. Or more commonly referred to as the "Cost of Ownership". In fact the purchase price is typically only 1% of the total cost of ownership. The Energy Policy Act has driven electric motor efficiency to its highest level in history. If your existing electric motor is more than 5 years old you could be missing out on considerable savings in your energy bill. In many cases, the ROI of upgrading a motor to higher efficiency is less than 3 years. Try our complimentary Motor Efficiency Calculator to see how your motor stacks up.
Size: Try to match the size of the electric motor with the size of the load. A motor that's too big for a load could result in energy losses, so identifying the right size for your equipment and needs can be hugely beneficial.
Transmission: Make sure belts, chains and shafts are installed carefully and create a maintenance schedule to inspect and maintain them throughout the year and as needed.
Material: Look to purchase motors with copper rather than aluminum wires, as copper has a higher conductivity and will ultimately be more efficient.
By looking for these characteristics in your electric motors as you shop, you can improve manufacturing facility efficiency.
6. Proactively Plan For Equipment Failures
Equipment failures happen, and that's why it's essential to have a plan in place for when it does. Communicate to your staff about the specifics of what to do and how to handle the situation.
Invest in industrial backup generators and keep all of your equipment regularly serviced. Extreme weather can cause blackouts and be detrimental to a manufacturing facility. Efficiency is tied directly to the confidence in these machines to work when they're needed, so make sure you're putting in the right time and effort to keep them working effectively.
Hold regular inspections to monitor the fuel, oil, lubricant and overall general weathering of your generators.
Contact Industrial Electrical Company to Learn More
Making sure your facility is running in excellent condition can be challenging. Getting some help from a professional service provider can set you on the right track to improve manufacturing efficiency.
Industrial Electrical Company can help you get your manufacturing facility running in great shape. We help provide services for your equipment to get them running to fit all of your efficiency needs. Trusted since 1935, Industrial Electrical Company can give you the excellent customer service you're looking for. Contact us today to learn more!