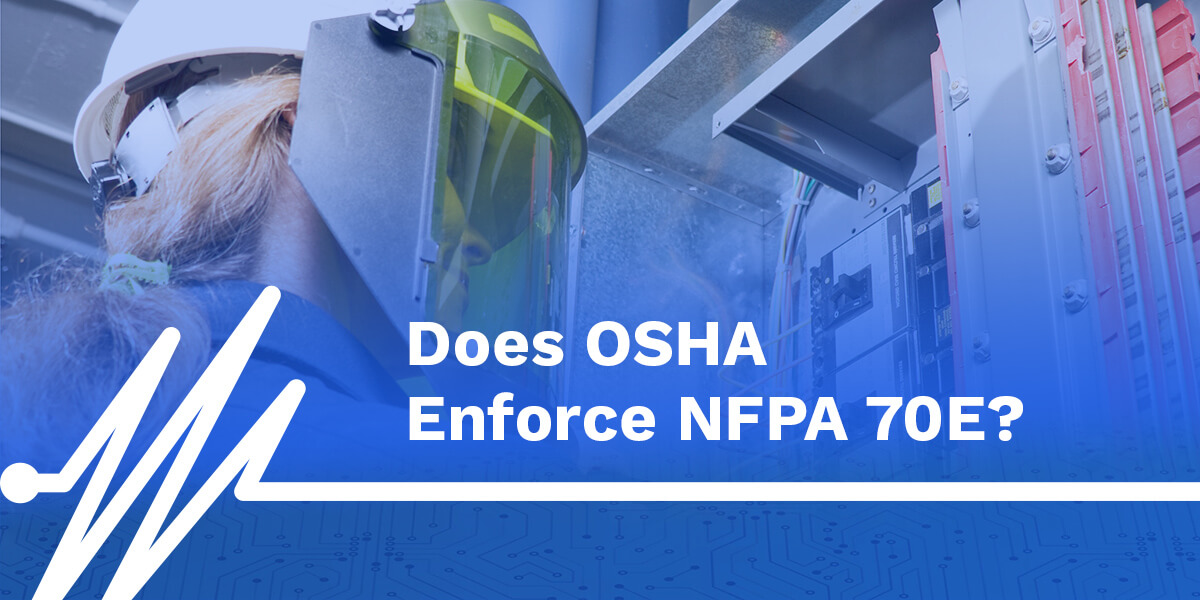 Keeping your workers safe while on the job is essential and in any company's best interest. While the Occupational Safety and Health Administration (OSHA) has mandatory electrical safety regulations, implementing voluntary safeguards can create additional protection for your workforce.
NFPA 70E is a voluntary safeguard that can help protect your workers from electrical hazards and ensure a safe working environment. While the standard is voluntary, complying can protect your employees from injury and your business from potential OSHA violations. Learn more about NFPA 70E, how you can comply with the standard and whether OSHA enforces the standard in the workplace.
What Is NFPA 70E?
The National Fire Protection Association (NFPA) created NFPA 70E at OSHA's request to address electrical hazards within the workplace. The NFPA is responsible for creating consensus codes and standards that help reduce the risk of fires and other accidents. Workers can experience severe injuries from installing, maintaining and repairing energized systems, even when working with voltages far below those that electric utilities experience.
The NFPA 70E standard helps protect at-risk workers from the electrical energy they could be exposed to that could cause harm. The NFPA 70E standard outlines multiple methods businesses and employers can use to assess a potential risk or hazard. Specifically, NFPA 70E addresses electrical safety requirements during the installation, demolition, maintenance and operation of electrical conductors and equipment. NFPA 70E also includes raceways and communications and signaling equipment and conductors.
Entities exempt from NFPA 70E are:
Mine installations
Ships and watercraft
Railway power specifically for rolling stock operations
Communication equipment controlled by communication utilities
Distribution and transmission work performed by electrical utilities
All other entities working with electrical hazards should follow the compliance requirements laid out in NFPA 70E. The NFPA 70E requirements for compliance help employers avoid OSHA violations.
NFPA 70E Compliance Requirements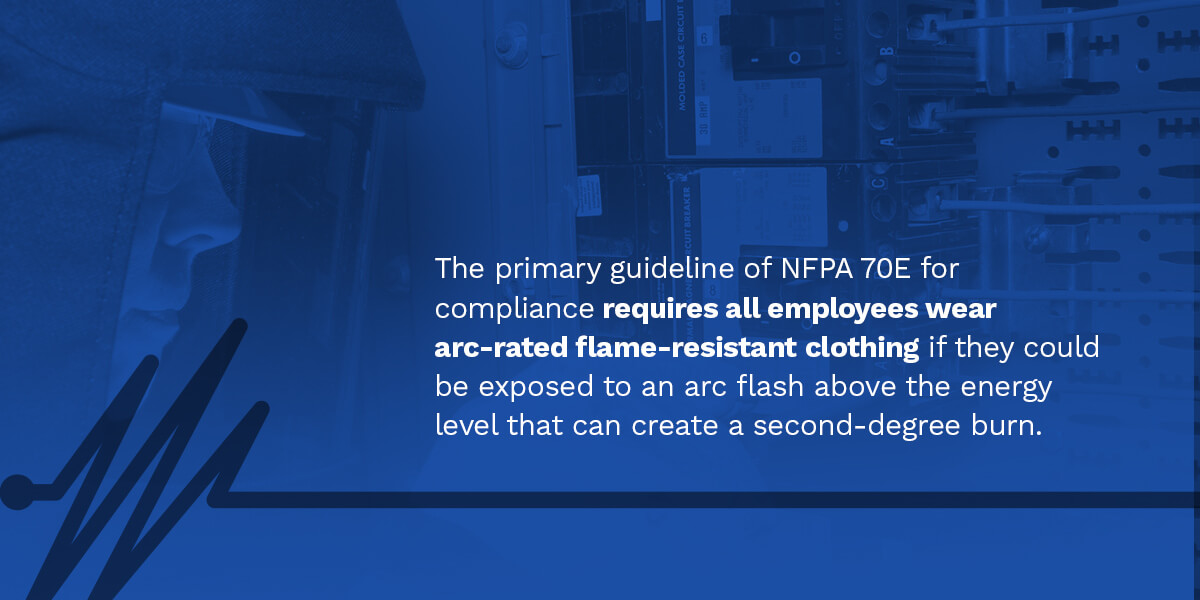 To comply with NFPA 70E, you must follow specific guidelines. The primary guideline of NFPA 70E for compliance requires all employees wear arc-rated flame-resistant clothing if they could be exposed to an arc flash above the energy level that can create a second-degree burn. Employees should also receive safety-related training. The protective clothing should have a label with a specific protection rating so you can easily match them to employees working in a specific hazard level. Matching the appropriate arc rating with the proper hazard reduces the risk of severe injuries and fatalities.
NFPA 70E also requires that employers identify, document and implement procedures that protect employees from electrical hazards and related injuries. Employers are also responsible for training, supervision, documenting and auditing and must provide protective clothing and equipment to their workers. Employees should also be retrained every three years.
You can find more details about the requirements for the NFPA 70E standard on the NFPA website.
Is Compliance With NFPA 70E Mandatory?
While no law requires businesses to comply, you could still face civil penalties for not complying with NFPA 70E.
NFPA 70E has specific guidelines to comply with, but OSHA doesn't technically require compliance. NFPA 70E is a national consensus safety standard but hasn't been incorporated into law or the Code of Federal Regulations. As a result, businesses don't have to comply with FPA 70E.
However, OSHA can still issue citations under the Safety and Health Act. Two separate sections of this act allow OSHA to cite businesses for not complying with NFPA 70E:
Section 5(a)(1): This section of the Safety and Health Act states that employers must keep their employees safe and make their place of employment free from hazards that can cause severe injury or death. OSHA often cites this clause in places where unsafe work conditions exist, which could be the case when employees are working unprotected around electrical hazards.
Section 29 CFR 1910.2(g): This section recognizes a national consensus standard, which is when a standard is recognized and adopted by a nationally recognized standards-producing organization. Since NFPA 70E is accepted as a national consensus standard, OSHA can cite businesses for not complying with NFPA 70E.
National consensus standards such as NFPA 70E carry the same weight under OSHA as any other regulation. General areas of compliance for NFPA 70E include:
Safety training and documentation
Personal protection equipment (PPE) selection and supply
Electrical safety program documentation and implementation
Hazard risk evaluations
Establishing safe work conditions
Complying with NFPA regulations helps you comply with the Safety and Health Act.
Why You Should Choose to Comply With NFPA 70E
One reason you should comply with NFPA 70E is that OSHA can cite businesses under Section 5(a)(1) and Section 29 CFR 1910.2(g) of the Safety and Health Act. OSHA penalties can result in fines, which can be costly for businesses. OSHA citations can also reflect negatively on companies, hurting future business deals and turning away potential customers.
More important than a potential OSHA citation, NFPA 70E was created to protect your workers from electrical hazards, which should be a priority for all businesses. Protecting your workers is the right thing to do. Employees will see your compliance with NFPA 70E as a genuine concern for their well-being, making them feel appreciated. You'll send the right message to your employees, which can reduce turnover rates and increase loyalty.
Additionally, compliance can help reduce potential liability during costly accidents. Complying with NGPA 70E can help reduce the effect on your bottom line and make your company a more enjoyable place for your employees to work. Some businesses are dedicated to helping other companies meet standards by supplying safety training to employees.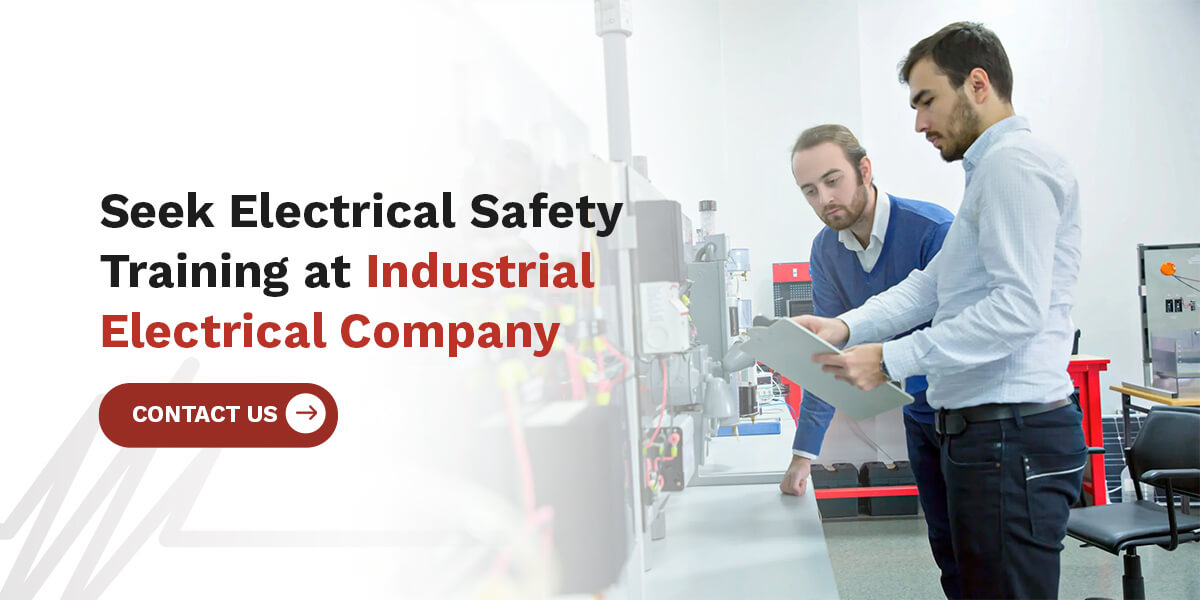 Seek Electrical Safety Training at Industrial Electrical Company
Complying with NFPA requires safety training for employees to ensure they can work around electrical equipment while limiting the risk of injury. Industrial Electrical Company is an electrical contracting and motor repair shop with years of experience helping clients keep their facilities at peak efficiency. We help our clients through our electrical safety and compliance programs.
We provide training to help you and your employees recognize, evaluate and control risks so you can create a safe working environment. We can also help ensure you comply to avoid OSHA violations and other potential issues. Let us help you with NFPA compliance and safety training. Contact us today to get started!